The LAN Restaurant The LAN Restaurant offers authentic cuisine
You will be delighted to taste dishes inspired by Thai, Szechuan and Cantonese cuisine, complete and delicious dishes served with exotic flavors. The chef agrees on the virtues of Wok to preserve the essential nutrients of the food. He carefully prepares healthy accompaniment recipes, and every dish is individually prepared.
Vegetarian dishes, Pad Thai noodles, and General Tao chicken, are among the favorites of the regulars. All our dishes are matched perfectly with all our wines.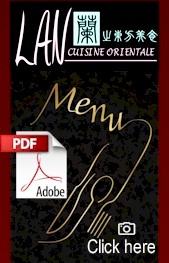 See our menu
The perfect place Asian cuisine lovers in a relaxed and friendly atmosphere.

Takeout Hours:
From Tuesday to Sunday 5:00 pm to 9:00 pm.